The Official Internet Crib of Harry Sadist







You say you don't know where the macho man is coming from?!
SADIST 1A - Episode 3


Shocking truths about the British aristocracy are revealed when Harry and Mink visit the Chicken Geezer restaurant. The evening is ruined by an overdose of psychotropic drugs, automatic weapons and student poetry. Originally appeared in Deadline issue 64.


Harry and friend

Chicken Geezer

demon-assed Ecstacy

Sponging Royal Parasites

Princely Perversions

Pube Joints

Floss your arse with razorwire

bendy headed fudge buffs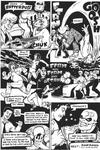 Jamaica
Sitemap
Copyright © Dom Morris 2015